My Workstation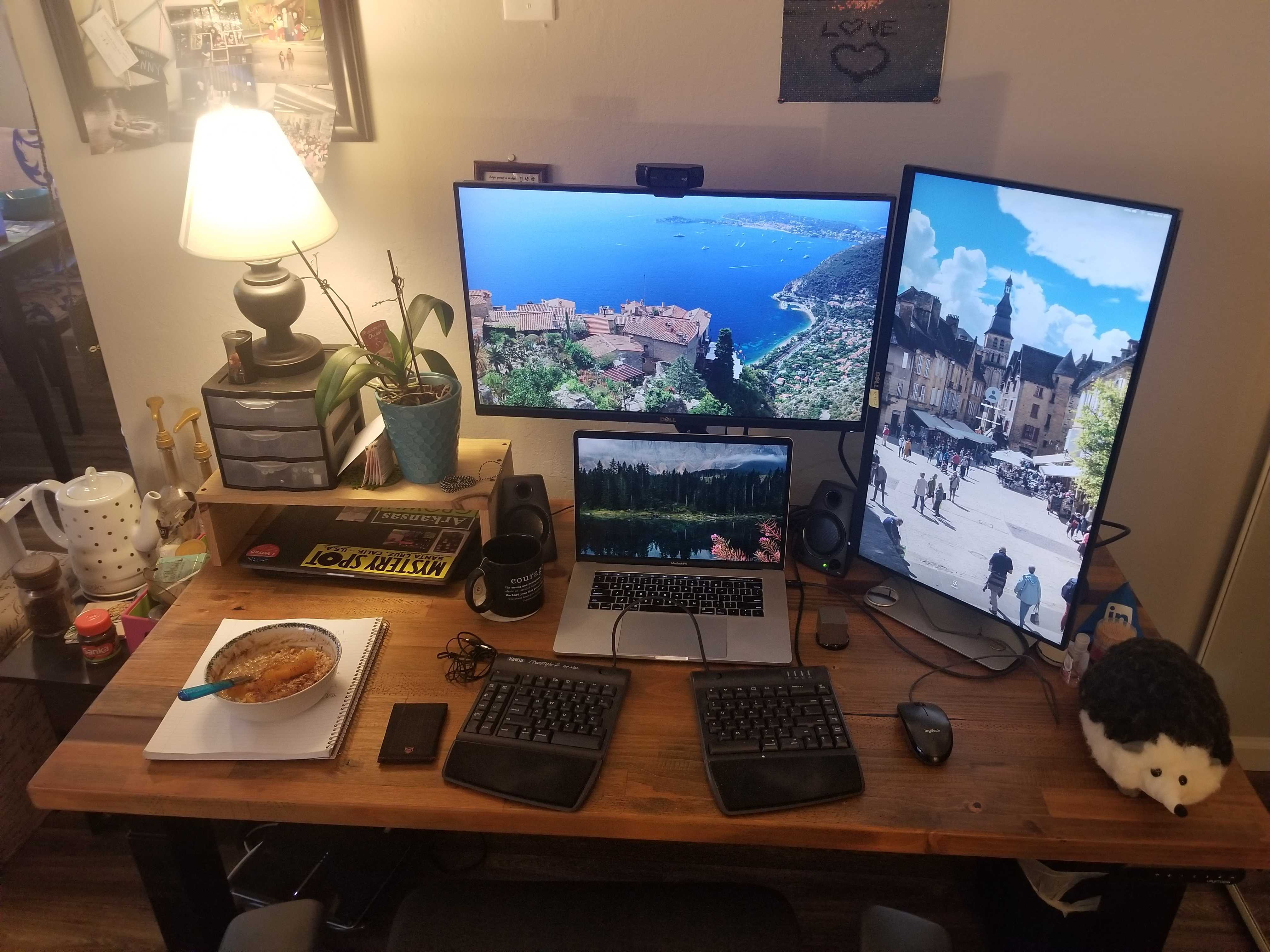 Desk - I bought an Uplift Desk from https://www.upliftdesk.com/:

Desktop Style: Rustic Reclaimed Fir (+$500.00) - in hindsight bamboo would have been cheaper, probably lighter, smoother (the reclaimed fir has small holes and such), and most likely looked almost as good or better in the low light.
Desktop Size: 60" x 30" - I really like this size. I have enough room for my laptop, monitors, and a notebook.
Frame: 4-Leg Commercial Adjustable-Height Standing Desk Frame - Black - This cost more, but I think it was worth it not to have a crossbar bumping against my legs or wobble when I stand
Advanced Digital Memory Keypad - Black ($29.00) - being able to save my height and switch between sitting and standing with the press of a button makes this super worth it. I am glad I got the keypad that is flush with th desk - I think I would have been annoyed by the (more expensive) one that juts out at an angle.

Mat - UPLIFT Standing Desk Mat 18" x 30" x 3/4" - I got this for "free" with the desk and it's really squishy and comfy
Monitor Arm - Discounted UPLIFT Range Single Monitor Arm - it doesn't wobble and holds up my monitor at a comfortable height
Monitors - I have two Dell UltraSharp U2715H 27-Inch Screen LED-Lit Monitors from Amazon. I like the 2560x1440 resolution and the flexible stand it comes with, but the 60Hz refresh rate is overkill for my needs. I use the USBC -> DisplayPort cables from my doc (see below) to these becouase for some reason the USBC -> HDMI cable wasn't always recognized (usually fixed by rebooting my MacBook). My MacBook also forgets the orientation for these screens, so I use displayplacer to save and restore position and orientation.
Webcam - Logitech HD Pro Webcam C920 from Amazon. It gives a good image and I feel like being seen clearly while we're all work from home makes me seem more like a person and less like a blob on a screen.
Speakers - Logitech Z130 Compact Speakers from Amazon - they're cheap, small, and my tin ears wouldn't really appreciate something nicer.
Dock - WAVLINK Thunderbolt 3 Docking Station from Amazon - this dock means I only have to plug one cord into my MacBook - this is really convenient if I want to work from the couch or switch out MacBooks. *UPDATE (2021-09-22): The WAVLINK stopped working for a little bit, so I got a CalDigit TS3+.
Keyboard - Kinesis Freestyle2 with the little wrist rests - I've really grown to like the split keyboard design and I got this keyboard for free from my work after an ergonomic assessment. My perfect keyboard would be a lot smaller, basically the Apple Magic Keyboard but split. I'm a big fan of thin keyboards
Mouse - A generic wired mouse. One of these day's I'll try a trackball - that seems like it would be fun
Chair - A Haworth Zody Task Chair with the 4D arms. These are super expensive, but I got a used one for $250 at the Bay2Bay warehouse in Santa Clara. It's nice for tall people (I'm 6ft) because the top doesn't have head cushion that would dig into my back.